"Doug McGrew is a strong, musical drummer who plays with enormous conviction and an infectious sense of fun. He is always listening and learning which makes him a joy to work with."
Michael Manring
Bass Players Magazine's Bassist of the Year Award Bammie nominated
Check out Lynn Sorensen and his many great bands
"I've had the good fortune of playing with some of the finest drummers in the business and Doug McGrew's drumming is unparalleled in it's excellence. Doug has the ability to play dynamically with groove and feel that blows the listener's mind. I highly recommend Doug!"
Joe Shikany - Guitarist for Bad Company's Paul Rodgers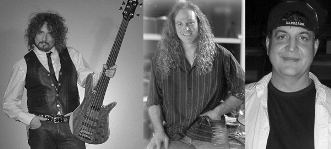 In one word, Doug rocks! Thank you, Doug for all of the great shows and can't wait for next time!"
Danny Payne - Portland Oregon
Musician Links
"Doug McGrew is the real deal. What separates Doug Mcgrew from the other top-notch drummers is his 110% positive attitude on and off stage! Doug also has the chops that would make any drummer at any level turn green with envy. I am truly honored that I have had the pleasure of working with Doug McGrew. I know what I am talking about because, I have performed in over 40 Countries around the planet!!
Tim Buie - Int'l Piano Entertainer
Doug is a member of the
Blues in the School Teaching Staff along with Curly Cooke, Al Rowe, and Annette Taborn